From: VoyageLA
Today we'd like to introduce you to Zuri Appleby.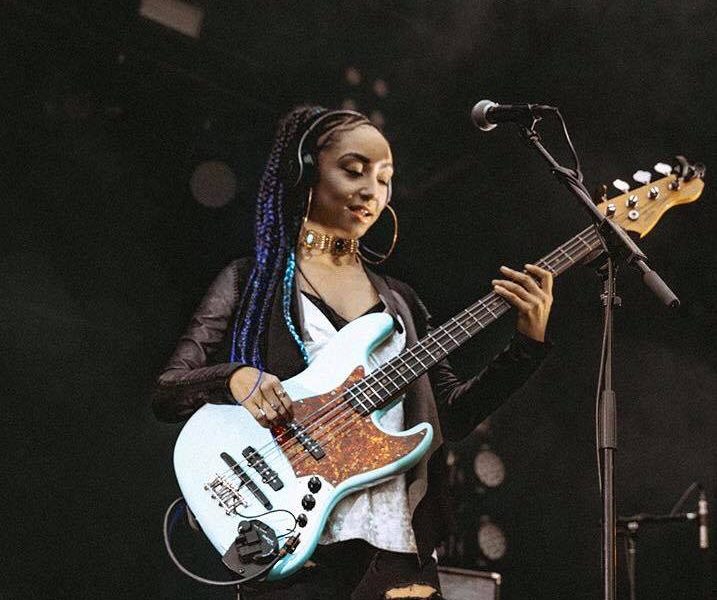 So, before we jump into specific questions, why don't you give us some details about you and your story.
I fell in love with music pretty early on in my life. I was blessed to be born with both my parents being musicians. My mother being a music teacher in the public school system as well as a private instructor for both vocal and piano and my father being a self-employed musician and artist working as a teacher, performer, actor, and multi-instrumentalist as well as vocalist. I grew up singing in my church choir with my mom being the musical director. Both my sister and I grew up singing every Sunday and harmonizing at home. After trying out a few instruments (to include guitar, piano, violin, and French horn), I learned my love for bass guitar after the first touch. All the other instruments seemed to fight back in a way that the bass felt like it wanted to take me in and work with me.
Through 7th and 8th grade, I tested out my skills on bass guitar in the grade school jazz band and went on to further my passion at the Buffalo Academy for Visual & Performing Arts through grades 9-12. During high school, I majored in vocal and instrumental performance playing in the orchestra on both violin and upright bass, jazz ensembles in and out of school and singing in every choir the school had available and also performing in any and all school musicals either on stage or in the pit. During these years, I also landed my first gig playing all the classic old school top 40 covers from EW&F – Rick James in bars and clubs until I was 17.
After four years of learning music at BAVPA, I went on to the United States Marine Corps where I was enlisted in Active Duty for four years in the band. My music training in the USMC included six months at the Armed Forces School of Music where we basically condensed four years of college level music studies into six concentrated months of schooling. After schooling, I was stationed in New Orleans, where I served the remained of my three years in the band as bassist and auxiliary percussionist. Post Marine Corps Band, I began being bassist for a church in my hometown of Buffalo and gigged every night of the week I could and played for any major artist that came to town needing a bass player from 2009-2015. In 2015, I got my first "big break" and was hired to play bass for Nick Jonas and toured for the next year. In 2016, I moved to LA where since being in LA I've been blessed to work with a number of amazing artists to include Lizzo, Willow and Jaden Smith, Adam Lambert, PARTYNEXTDOOR, Yuna, Brent Faiyaz, and others.
Great, so let's dig a little deeper into the story – has it been an easy path overall and if not, what were the challenges you've had to overcome?
The journey of being a self-employed traveling musician has some amazing benefits and perks but definitely has its challenges. As I get older, I start to feel more drawn to having a home base and building a solid foundation. From friendships, family time, pets, being able to do home improvements, let alone enjoy our homes we pay however much for to end up spending 15% of our time in, all these areas end up being greatly compromised. The majority of time I spent away from home, on top of having moved away from my home town in pursuit of my dreams. I've been familiar with uprooting my life and being ready and able to move as needed but such a lifestyle can make it hard to build.
Staying healthy is another challenge I experience. I'm a Type 1 Diabetic as well as vegan. Rehearsal schedules run up to 12 hours and planning ahead is key for me but not always easy or possible schedule depending. Finding healthy food which fits my dietary needs while on tour, traveling, gigging, rehearsing, at random hours and in areas with limited options is something I've learned to navigate through but is still a "to do". I end up packing a whole duffle bag of protein shakes, bars, snacks, and herbs which isn't ideal when it's always best to pack light for mobility ease and cost, but I do what I gotta do to have what I need when I'm away from home. Finding time to work out or do physical activities in the name of self-care is a foreign concept to so many of us when on the road. Not only are the hours of our schedule difficult to work around, it can be tempting to take advantage of all the backstage snacks and drinks and venue food which is generally bar food and alcohol of some form. (And I love french fries late at night way too much for a diabetic.)
I can't skimp over the "Being a Woman in the Industry" aspect so I'll touch on tAs exciting and beneficial as it is that I work with such a widespread of artists and musical styles, it can be like force feeding a kid peas to play sometimes to be honest. Every band member and each different band has different members. Most are strangers or at least were at 1st and it can be awkward trying to make "musical love" with a set of strangers. Sometimes I don't like the song that much or I'm not really vibing with how a band member is locking into the song and sometimes that doesn't change and we gotta feel it out and make it feel the best we can anyways.
That without dwelling on the obvious. There's gaining or achieving the respect for what you do as a musician. For being a person. and then for being a woman. Each are "measured" differently. Guys are already harsh critics when listening to each other and when it comes to us women, we aren't judged lightly. Or at best, we might hear "you're a dope female bass player" which I get isn't meant to be offensive, but pretty much always is. Then there's the part about usually the woman hired in the industry aren't too hard on the eyes and we get dressed up to look the part. I'm happy to dress up and actually love that part of doing shows, but guys often use it as an excuse to overstep boundaries, which is something most women are used to by now unfortunately, but when it comes from people you felt cool with or have to live the next month plus with, it gets old fast.
Can you give our readers some background on your music?
I'm a full-time self-employed musician who specializes in the five-string bass guitar and vocals. I teach, perform, and record bass and vocals. I think I'm most proud of my ability to adapt and connect with different styles, groups and people. I think I have an innate ability to stand out without taking away from the focal point. I think what sets me apart is my bright aesthetic and the way I can bring a unique spark to any group I'm in a while still honoring my role as supportive team player.
Do you look back particularly fondly on any memories from childhood?
My favorite childhood memory, I think might be the first time I won a race as a young girl just running outside against kids on the street. It was the first time I felt like I was the best at something and I loved knowing I could excel at something and loved the feeling of excelling.
Check out the original article at: VoyageLA